Smart Resource Grids: Exploring Technical Solutions to Grand Challenges at the Water-Energy-Food Nexus
A Grand Challenge facing humanity toda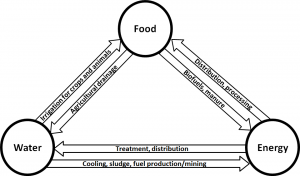 y is ensuring that key resources necessary for prosperity are available for future generations. No resources are more fundamental to prosperity than water, energy, and food. To best conserve them, we must understand how they relate to one another and find technical solutions to enhance synergistic relationships while mitigating harm from detrimental links. The objective of this  project is to build a Smart Resource Microgrid on the UConn Storrs Campus. This one-of-a-kind facility will enable development and demonstration of new technologies that will solve some of the world's greatest challenges associated with food security, water conservation and alternative energy resources.
The team:
Richard McAvoy (PSLA, Project Director)
Co-Directors: Xiusheng Yang (NRE) and Jeffrey McCutcheon (SOE)
Agricultural Thrust Leaders: Gerry Berkowitz (PSLA) and Leslie Shor (SOE)
Water Thrust Leaders: Rosa Raudales (PSLA) and Tim Vadas (SOE)
Energy Thrust Leaders: Xiusheng Yang (NRE) and William Mustain (SOE)
Extension Thrust Leaders: Mike O'Neill (Extension) and Alison MacKay (SOE)
Other Senior personnel: Ben Campbell and Stephen Swallow (ARE) and Radenka Maric (SOE)
---
This project is co-sponsored by UConn Office of the Provost-Academic Plan Program, UConn College of Agriculture, Health and Natural Resources, and UConn School of Engineering.